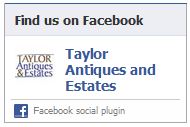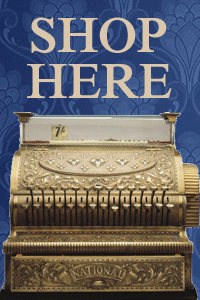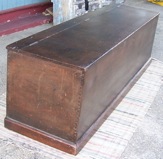 MUSTARD PAINTED GRAIN BIN
2nd half 19th century - nailed construction - old paint
VALLEY BUCKET BENCH/SHELF
Found by the previous owner in the Shenandoah Valley - they dry scraped it to the original green and waxed - rabbited, with early cut rose head nails; note the great bootjack cut out feet and hand planed shelf boards, 5 feet across, early 19th century. Asking $750.
- nice size for the kitchen or mudroom. SOLD.
LARGE ENGLISH COFFER/CHEST
Oak, expertly dovetailed, more than 20
dovetails at each joint, mid-19th century,
just over 6 feet long. Asking price for this great antique box: $450.
For more information
or to purchase items
please email
Taylor Antiques and Estates
Please click on photos
for more views and information.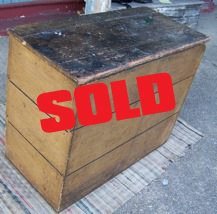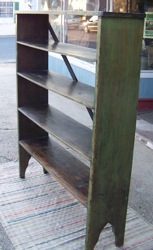 Southern mid-19th century Server w/elaborate inlay. This is an exuberant Georgia Vernacular Server - one of those Neat Piece that are unique to the South. Just over 6 feet tall, in two pieces, inlay throughout, secret drawer at the bottom - to hide the family silver. Cherry and mahogany, yellow pine secondary wood - one of a kind. Selling for just $2,500.